---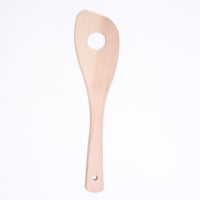 JAPANESE WOODEN RICE PADDLE
Regular price £10.00
Tax included.
Shipping
calculated at checkout.
Made from Japanese Magnolia wood, this rice paddle is a great natural addition to the kitchen. A cross between a spatula and risotto spoon, it's useful for tossing stir-fries, mixing rice dishes and stews, and scraping remnants from a pan. We also find it a perfect tool to stir rice while washing it before cooking. 
Wooden kitchen utensils are light and durable, and help prevent scratching of pots and pans. The hole in this paddle also allows you to hang it up on a hook to dry.
For other useful kitchen items, visit our kitchenware collection.
Japanese Magnolia Wood
Length 30 cm
Made in Japan
Hand wash for longer life
Made in Japan