---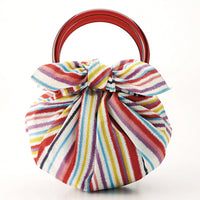 Sale
FUROSHIKI - MODERN GIRL STRIPE RING BAG
Sale price £38.00 Regular price £45.00
Tax included.
Shipping
calculated at checkout.
Perfect for parties, lunch dates, or even just tidying things away in the home, the Modern Girl Stripe Ring Bag is a handy pouch bag that you can easily construct yourself. To make the bag, simply push two adjacent corners of the furoshiki through a ring, pull them around to the front and tie with a double knot for a bow-like detail. Repeat with the other corners and ring.
The vibrant multicolored stripe pattern of this set pays homage to the pop kimono designs of Japan's "Modern Girls," the daring fashion trendsetting women of the Taisho Era (1912-26).
Take a look at the Modern Girl Dot Ring Bag for another stunning style and visit  our full collection to see other striking furoshiki patterns.
In 2005, the Kyoto-based Musubi opened its first store dedicated to furoshiki in Tokyo, but it has been designing and making the wrapping cloths for decades. Now working with various other furoshiki makers in Kyoto and collaborating with numerous designers and illustrators, it produces an eclectic range of vibrant patterns and styles — from traditional to geometrically modern. Every design takes in consideration types of fabric and printing processes, and if not made by the company itself, is carefully matched with the ideal maker.
Furoshiki size: 70 x 70 cm
Bag Rings: Tortoise-shell colour, diameter 13 cm
Material: 100% cotton, plastic
Made in Japan